We did heroic stoneguard last week and I got the heroic lanterns cloak. Woot. I also dropped herbing for tailoring. Flying around all of MoP and getting 2 stacks of herbs, is not cool.
Anyway I remember why I haven't pvp'd much. Let me remind myself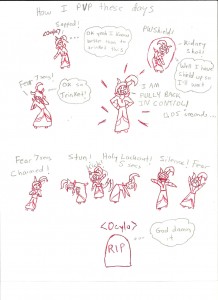 STUN STUN SILENCE DEEP FREEZE STUN SILENCE KICK INTERUPT STUN HOLY LOCK OUT BLIND GARROTE FEAR STUN STUN STUN STUN STUN. Yeah. That's why.