Day 3:
With my weapon upgrade out of the way I take a look at common armor back in Giran as an earlier person had mentioned about the weapon upgrade. I pick up some light armor, as that is all I can wear, which sets me back to 87k. But really, running around in starter armor for 26 levels is somewhat unbecoming. Besides, selling off old gear puts me back to 125k. Now I look not so.. undressed.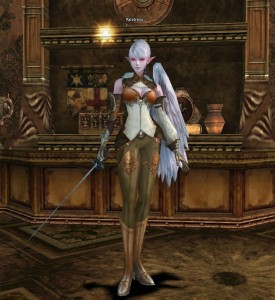 I try to get a kama in Gludio but there are no takers other than a level 18.  I go to Dion and yell some more.   I watch my shadow jewelry tick down from 10 mana to 5 and vanish during this time.
I run outside of Dion looking for something to do and hopefully catch any shouts from town.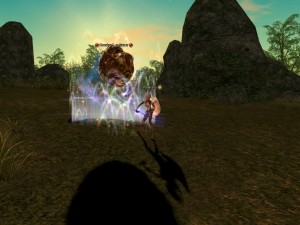 Then I head to Execution Grounds.  I see another tagged kamael but they appear not to notice me.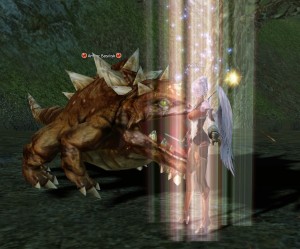 I say hello to the other person but get no response.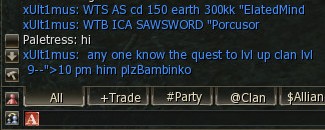 I hit 27. I call out asking if there are any quests I can do in EG but no reponses. I try asking for a kama again then pick up a cleric (sigh mages) named Xan8ipph and work on getting another DD since we all know mage classes kind of stink in kamas. I go to Dion with about 146k and pick up more shots and call out for more, then go to Gludio and repeat.  No takers.  The cleric drops and says "sorry m8" and tells me the time is wrong.  They say it's 14:00 GMT +2 (it's 10am CST).
Back in Gludio I pick up a Palus Knight darksamus and we try one in a duo since we cannot get anyone else.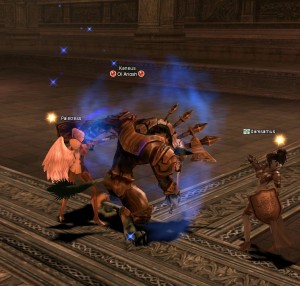 They are not using shots, and I obviously have no idea how much damage they are or are not doing because there are no meters. I run through over 3,000 shots before it's more than halfway dead. I run out with about 10% left now we are both not using shots. I'm beginning to really hate kamas. We fail to kill it.  I'm out about 3,500 shots for nothing. My bad I suppose, I did say we needed another DD. They explain they are on a test account and cannot buy from players.  That sucks.
We exit, pick up Malenki and down it.  I get a Cursed Tunic and Stockings and they both receive Cursed Stockings. At least that's D grade stuff.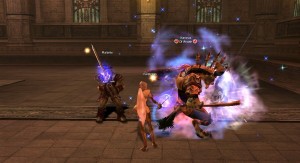 I have also hit midway through 28. A bit frustrated I log out after learning skills.