So far people in classic almost across the board have been lovely.  Passing out buffs, helping each other randomly with mobs one way or another, grouping up for quests and waiting for everyone to get all of their items, etc etc.
Well, one guy today, Warriorbeast, asked for 1 more for the Captains Chest quest.  I PM'd him, no invite.  He asks again, I respond in general, no invite.  Maybe 3 minutes later he invites, only then he engages the mob, kills it, says he's done and drops party.  I wasn't even there yet.   He then ends with "wsp for inv in the future'.  I did, asshole.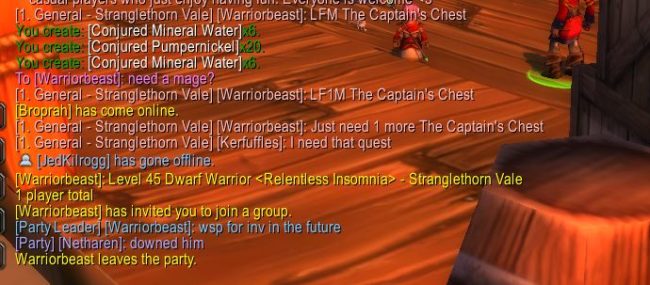 The hunter however, Netharen, waits for me to get down there and keeps the group active, for me to try to loot it anyway.  I could not, so he offered to stay and kill it again, which we did.  A horde paladin named Sna even jumped in to help  The nice players far FAR outnumber the jerks but since you cannot jump servers any more, it's good to note those being impolite.