I log in and run a bg, which is AV and we lose.  79 honor.  The battles in here lately have been pretty fun though.
Later at night I try to queue for a BG and wait 13 mins and get nothing.  Odd.  Then I put on my PVE gear and queue for a dungeon.  While I'm waiting for that someone named Bananaslug tells me I have a great guild name, which by the way is "Bloodbathed and Beyond".   Silverveil is still in Relentless, which is also a great name.   The dungeon takes quite a while to come up and it's Pit of Saron. We lose one guy right away and a warlock takes over. The fight goes fine until the last boss where the stupid mage just stands there and does nothing the entire Tyrannus fight.  He was taking damage from the starting spot but I wasn't about to run over there and leave the tank alone.   At least we get it though.
Afterwards it's back into the PVP gear, queue up and get Isle of Conquest. We lose, 36 honor.  Queue again, same BG. There is much sniping in battleground chat about who is doing what wrong and all the insults start piling in. We're playing badly, very much so.  However some of the fights go for so long, without me dying, I have to retreat and drink to get my mp back. We lost, I earn 66 honor. 200 HK's.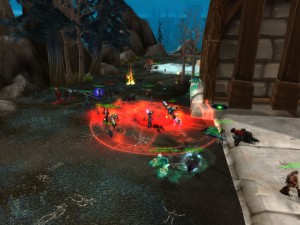 I then run WG and we win it, and I do the majority of the calling out of stuff.  Recount shows I had 79% healing too.  I'd like to get a VOA at this point.  I get in one, so we'll see how it goes this time. Getting enough people to do ANY voa has been a challenge lately. It seems to be a combination of less people able to participate in WG, most players taking a break until Cata, and now the addition of not many people hanging out in Dalaran.  No one  wants to wait like 20 mins for someone to come from Eastern Kingdom to do it either.
We're only trying for the 10 man raid here and after about 5 minutes of waiting, 2 of the 7 people leave.  I am hoping Blizzard does SOMETHING about this area or it's going to be a ghostland.    When another 5 minutes passes and we can't even find dps… eeeh.  I wonder if this area is just being phased out.  Anyway all of a sudden several people recall that they did 25 voa, which now locks them out of 10, and 2 people leave.  That must have dropped last patch because I didn't know that either.
Then another person drops because they 'prefer to wait for 25'.  They will be waiting a very long time for that. We get the frost boss down no prob. I do most of the healing at 70% of healing done.  It really didn't feel like anyone else was healing, at all. The other healer then admits they have 3k gs. We get all the bosses down however, because I rock, even with 9 people there. They also go on to say this is only their second time raid healing and they feel bad I did most of the healing (Branders is the healer btw).  I tell them I am use to pvp healing so this is very similar as far as speed and target switching goes and since we didn't wipe it's no worries.  I suggest they go heal in battlegrounds if they want to practice raid healing.