On Thursday we got Blackhorn down in normal DS, even though I believe Rayzo was the last one standing.  Since I couldn't buy him lunch like I did for Maice the few times he solo'd a boss, I cut him 3 inferno rubies instead to celebrate.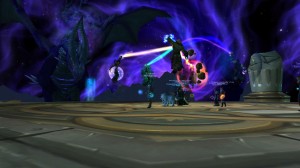 We tried spine but we were all over the place and it didn't work out. I wish we would do 2 nights of DS instead of FL. I mean other than doing it to get ONE person a staff, there is nothing in FL that would be an upgrade so why bother with an entire night?
Today I left A9N on my mage, who I put in Relentless with my shaman, and my priest who is as of current, untagged.  I had to keep declining raids anyway; I can't raid Tuesdays and 7pm is too early for me.  We weren't doing Rbgs any more either so I figured I may as well just join and focus on the guild I'm raiding with, again! I was in Relentless at the start of this little log and it was the first guild I've ever been in.