Murkbottom wasn't on last night for the 3's he scheduled, so picked up a random hunter in trade and got cap.  The person wasn't geared very well but there was no raging, and I had a good time actually.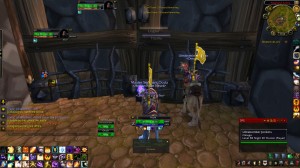 Added them to my friends list since they said they were willing to go again next week.  Hunter/disc priest is probably a weird combination but to just have a decent partner is all I want at this point. Had a problem with my points though, I had like 400 cp coming in, but had a battle that gave me no points at around 1100 for the week, then another battle gave me 80, then another battle gave me none, then another gave me full.
Ran BH 25 on shaman and priest and won nothing.