I did a few Tol Barad battles today and, I ran into a special kind of stupid that only seems to manifest itself onto someone who plays a hunter.  In this case, Solo-Garona.
He's typing in really bad English about ignoring the spires which is kind of a valid point if you are struggling with bases, but we had 3. You won't want people deserting bases but you can spare 2 people.  He was literally saying they aren't important at all.   Like, screaming to ignore them. At one point he calls inc on ICG and I run there only to find him standing alone, with no horde around, and then he claims he can't do something because "i'm bsy fighting" when I'm observing him in person, not doing a damn thing.
So naturally I start talking back when he says "listen to what im saying i knwo what im takin about". I tell him he's making terrible calls and to be quiet.  I was then removed from the group.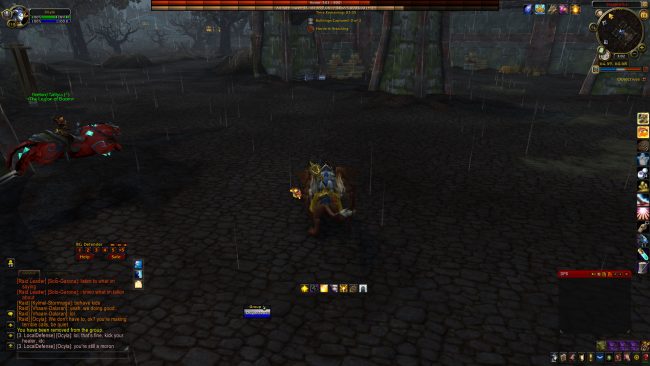 I reply "lol that's fine, kick your healer, idc, you're still a moron".
He literally replied with "u ar e teh weakest link good bye!"
I laughed out loud and countered with "oh wow, 1999 just came by and said hi!"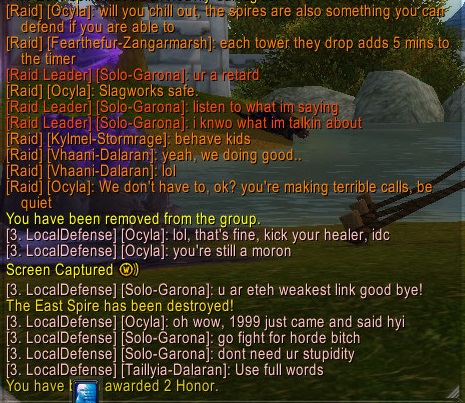 A few minutes later after people told me to cool down which I most certainly would not, he tried to reinvite me to group, twice, which I declined, TWICE.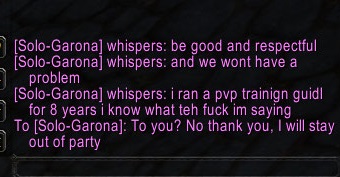 That battle was pretty fun other than that, with quite a few horde showing up.
However it got even funnier after that when I ran to the camp to wait out the next battle, and saw Solo sitting there.  Completely unprovoked he laugh emoted at me, and called me a 'horde spy'.  I replied "you're really something" and he launched into rapid fire insults that included how I don't know how to pvp and now 'everyone' knows it, I'm an idiot and a horde spy, I have a big mouth (true) and I should use it to suck his dick.  Unfortunately I didn't get a full screenshot because after the dick comment, I replied "if you had one I might" I reported him and his text all disappeared.
I don't mind being insulted but I won't put up with threats or stuff like that.  Apparently Solo is massively insecure to have to double down the insults well after the battle was over.