I got my monk to 25 today, and I went Mistweaver.  At 25 I still only have 1 heals, Soothing Mist and Enveloping something or other.  The first one is channeled, and leaves an obnoxious trail of green to your target, showing everyone exactly where you are.  The second is instant, only if you are already channeling, otherwise it's a cast time.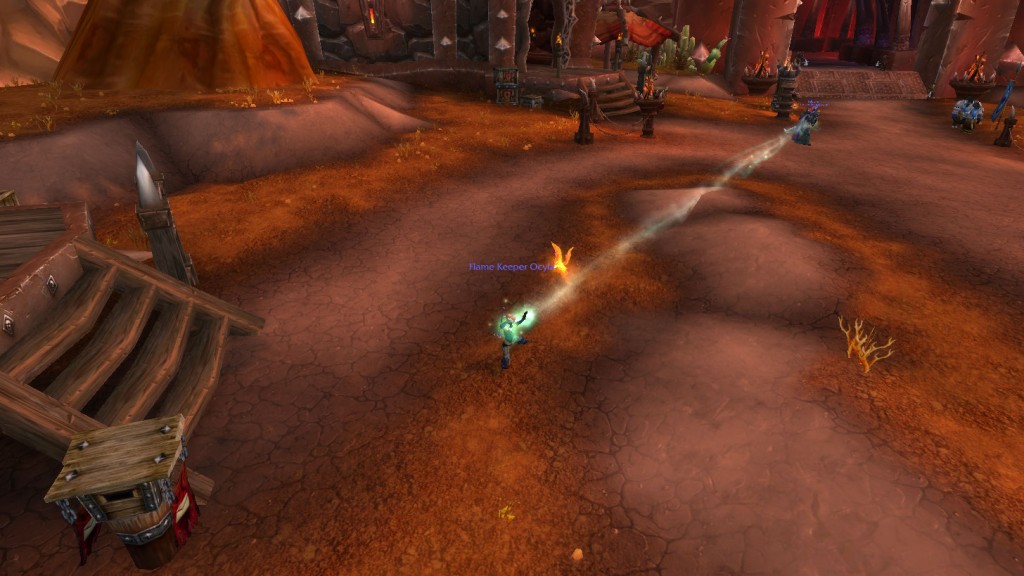 Where's the healer? OH THERE.
First of all, I've leveled two healing priests, a druid healer, a paladin heals, and a shaman healer.  None have felt so gimped in the healing department to that point.   I was rocking with a single heal when a priest was coming at me with pw shield on, penance, flash heal, smite, and throwing sw pain on me.
Monks get a 50% exp bonus if they transfer using a skill on a 1 hour CD, to Kun Lai Summit and fight this panda.  Over and over.  Each time.
My only defense at this point if I remember right, is my roll.  I'm in full BoAs and rogues still one shot Ambush me.
After doing a bunch of bgs with this fun (if I were new I'd have quit by now!) I got frustrated and made the following comment in regards to constantly channeling a heal to get anything done (lol spell lock out!):
It's like running around with your mouth open in a sea of dicks.
Vulgar I know.  I was pissed.  HI SPELL LOCK OUT LOOKEE ME IMMA CHANNELING.