Ran guild LFR tonight and won Gloves of Liquid Smoke. Was another 10/11m guild run and Shock got to tease me about a nice necklace that dropped, saying he would have given it to my priest if I was healing.  Buuuut since it's just one guild group a week I can make I've decided to rotate the characters.
And, ok, where do I get this set? huh huh? XD Damn custom armor…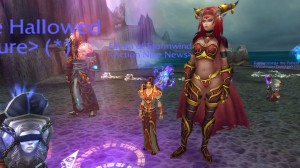 The good bg streak continued today as well, getting in an ALREADY WINNING wsg, which we won, the just rapage AB win, then a SotA win.  Amazing how the days fluctuate.